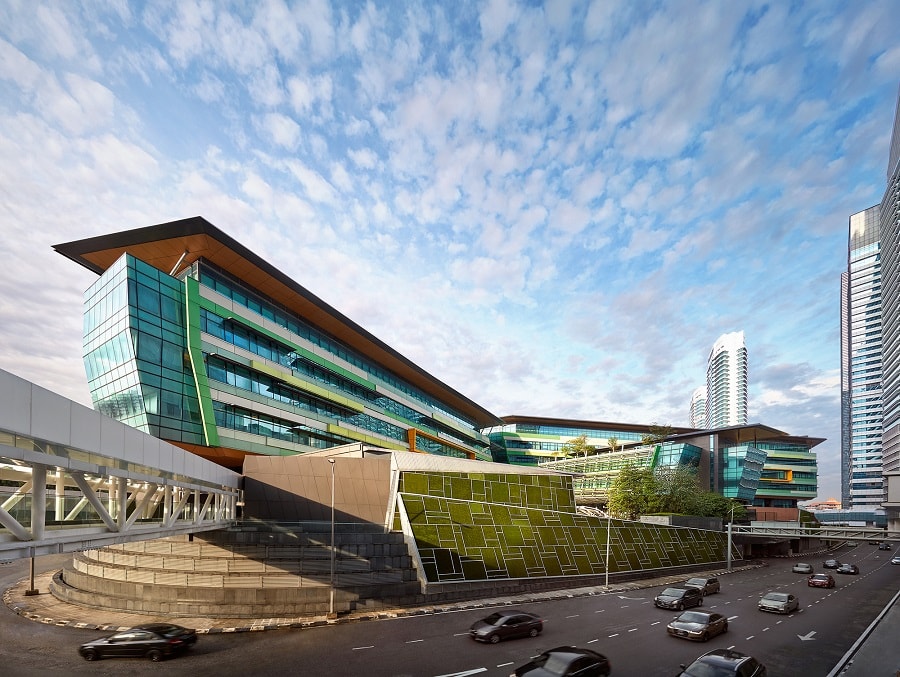 Platinum Sentral is a commercial development consisting of 5 blocks of 4 to 7 storey commercial building comprising office-cum-retail space, a multi-purpose hall and 2 levels of car park together with 637 car parking bays. It is constructed on a parcel of freehold land together with the deck structure comprising the piling foundations, columns, walls, plinths and full transfer deck ("Deck") including the road(s) constructed on part of the Deck and held under GRN 46222, Lot 73, Seksyen 0070, Bandar Kuala Lumpur, District of Kuala Lumpur, Federal Territory of Kuala Lumpur.
Platinum Sentral is located within the Kuala Lumpur Sentral development and approximately 2 kilometres by road to the southwest of Kuala Lumpur city centre. Kuala Lumpur Sentral is an exclusive urban centre built around Malaysia's largest transit hub interconnecting Kuala Lumpur International Airport (KLIA) Transit, KLIA Express, Light Railway Transit, KTM Intercity, KTM Commuter and the KL Monorail. Kuala Lumpur Sentral is demarcated by four major arterial roads, namely, Jalan Damansara to the north-east, Jalan Tun Sambanthan to the south, the viaduct from Jalan Istana to the south-east and Jalan Travers to the north/south-west. The Property is sited at the south-western portion of the Kuala Lumpur Sentral development and within the Multimedia Super Corridor Malaysia Cybercentre @ Kuala Lumpur Sentral.
The Land is near triangular in shape. It is bounded by Jalan Stesen Sentral at its southern boundary, Jalan Stesen Sentral 2 at its northern boundary and Jalan Stesen Sentral 4 at its eastern boundary, and is accessible via Jalan Damansara as well as the internal roads within the Kuala Lumpur Sentral development. Platinum Sentral was accorded the BCA Green Mark Platinum Award (Provisional) and BCA Green Mark Platinum full certificate on 30 December 2009 and 1 October 2014 respectively. Platinum Sentral is also the World Gold Winner of the International Real Estate Federation (FIABCI) World Prix D'Excellence Awards 2014 (Sustainable Development Category) as well as the winner of the FIABCI Malaysia Property AwardTM 2013 (Sustainable Development Category), The Edge – PAM Green Excellence Award 2012, and "Best Green Office Development" and "Best Green Initiative" from the Editors Choice Property Awards 2012.
Key Statistics of Platinum Sentral
Address
Jalan Stesen Sentral 2, Kuala Lumpur Sentral, 50470 Kuala Lumpur
Description
5 blocks of 4 to 7 storey commercial buildings and 2 levels of car park
Year of completion
2011
Occupancy as at 31 December 2022
96%
Purchase consideration
RM740,000,000
Appraised value
RM670,000,000
Date of valuation
31 December 2022
Net lettable area
482,913 sq ft
Provisional (Surveyed) land area
-
Land tenure
Term in perpetuity
Number of tenants
Multiple
Name of tenants
Small and Medium Enterprises Corporation Malaysia (SME Corp Malaysia);

SBM Malaysia Sdn Bhd;

Platinum KLS Center (MYS) Sdn Bhd (Spaces);